ITF in Southeast Asia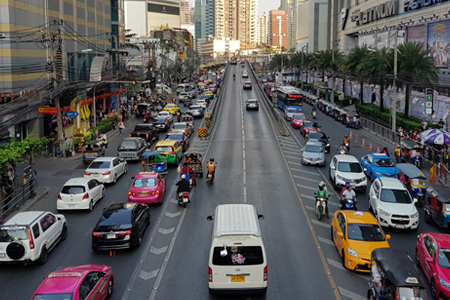 ITF works in Southeast Asia for sustainable, resilient and inclusive transport. We offer countries evidence-based policy analysis and promote dialogue to underpin their social and economic development.
Unprecedented growth in Southeast Asia's population, economy and rate of urbanisation brings new challenges. Sound policies are essential to respond to increasing transport demand from the region's 645 million inhabitants. New mobility services can cater for changing travel patterns as the economy grows over 5% each year. Strategic infrastructure investment has the potential to add to the region's GDP of almost USD 3 trillion. Good governance can address increasing environmental and road safety challenges.
The Kuala Lumpur Transport Strategic Plan 2016-2025 identifies many of the region's transport challenges and sets goals to address them. ITF helps countries to achieve their Strategic Plan goals through evidence-based policy analysis. The ITF projects also provide training and peer-to-peer learning for policy makers. The projects cultivate knowledge sharing between Southeast Asian authorities and ITF's member countries, international partners and stakeholders.
The ITF has increased its presence and scope of work in Southeast Asia since 2018. Following individual, country-specific projects, the ITF expanded to work on regional initiatives in close collaboration with the Association of Southeast Asian Nations (ASEAN) Secretariat. In 2019, ITF-ASEAN developed a Transport Research Proposal for three areas:
Road Safety Data Management
Implementation of the ASEAN Fuel Economy Roadmap
Regulation of App-based Mobility Services
Through these initiatives, the ITF worked with all 10 ASEAN Member States: Brunei Darussalam, Cambodia, Indonesia, Lao PDR, Malaysia, Myanmar, Philippines, Singapore, Thailand, and Vietnam.
ITF also partnered with the United Nations Economic and Social Commission for Asia and the Pacific (UNESCAP) to develop Covid-19 Recovery Guidelines for Resilient and Sustainable International Road Freight Transport Connectivity in ASEAN. These guidelines are included in the ASEAN Comprehensive Recovery Framework, and its Implementation Plan, and help guide recovery measures as countries start to open up post-pandemic.